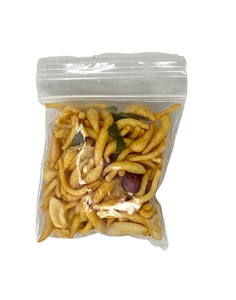 Our finest freshly made Bombay Mix is now available in small giveaway bags. Perfect to add to your gift bags or wedding favours and delight your guests.
Give the mixture in a small hygenic bags for your guests and allow them to tuck in there and then or let them simply slip a bag into their pockets for later snacking.
Please note as the bags are low-density polythene the items inside do not have the same shelf life as our usual air tight packaging.  Items will stay fresh for up to 12 days in the bag.
Each bag wll pack approximately 25 to 30 grams of mixture. 
This bag is full of spicy goodness made with baked cashews and peanuts along with some fresh exotic ingredients to delight your taste buds.
100 % Natural

No Trans Fat
NO MSG
Suitable for Vegetarians & Vegans
In Small Batches
Rani's Mixture Contains:
Spicy Boondi (39%), Savoury Noodles (34%), Peanuts (10%), Cashews (8%), Cassava Chips (5%), Chana dal (3%).
Ingredients:
Gram Flour, WHEAT FLOUR, Yellow Split Peas (Channa Dal), Cassava Chips, CASHEW NUTS, PEANUTS, Sunflower Oil, Curry Leaves, Salt & Spices.
Allergen Warning:
For allergens see ingredients in bold capitals. Wheat flour contains gluten.