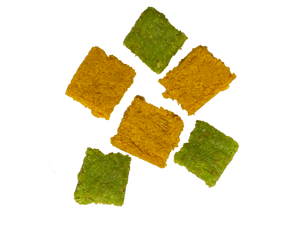 Coconut Toffee translated locally in Sri Lanka as 'pol toffee' has a bursting flavor of milk and sugar infused with desiccated coconut. A bit like the inside of the Bounty Chocolate. 
The sweets come in a range of pink, green and yellow colours.
It's sweet delight briningng you a flavour of the Island.
100 % Natural

No Trans Fat
NO MSG
Suitable for Vegetarians
In Small Batches
Rani's Coconut Toffee Contains:
Desiccated coconut, sweetened condensed MILK, sugar, cardamom, vanilla extract, natural colouring (
Propylene Glycol,
Emulsifier (Polysorbate 80),
Colour (Curcumin) ) and salt. 
There are about 8 to 9 pieces in 160 grams.
Orders are freshly made so it may take around 2 days to prepare before dispatching.