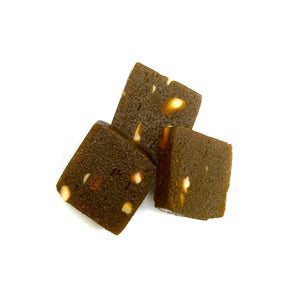 Dodal is a delicious dark jelly like confectionary that will take your taste buds on a heavenly ride. A perfect post-meal dessert or just a snack for your tea break, you will love this dodol and won't stop asking for more.
This home made Sri Lankan sweet is a time consuming and complicated dish to prepare requiring a lot of attention and care. Luckily for you it's just a click away.
100 % Natural

No Trans Fat
NO MSG
Suitable for Vegetarians & Vegans
In Small Batches
Black Dodal Contains:
Coconut milk, Red rice, Brown sugar, Cashew nuts, cardamoms.
Orders are freshly made so it may take around 2 days to prepare before dispatching.
Black dodal
The dodal was too good ,the taste is excellent and sweetness was just in the right place.
Fantastic, Tasty Snacks
I loved a lot of the products I purchased. Kalu Thothal is the best I have ever tasted. I will buy again, for sure.
Found My favorite treats…
I was very surprised to find this site with all the stuff I was longing for during this pandamic. I lived in London many yers ago and still have my friends there, so every time I go for a visit and stock up on all our favorite treats. I was very pleased with the items I received and most of all the turn around time in which I received them. Now I can get my favorite stuff.
Thanks guys.
Sweet and moorish
My mum used to make these for me when I was little and let me tell you, they are not easy and not so easy to get right! Rani mix has done a wonderful job!! Love them
Black Dodal / Thothol (தொதல்)